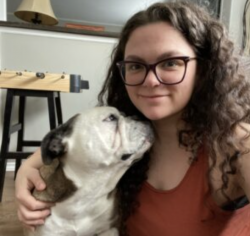 Latest posts by Candace Osmond
(see all)
Do you have an American bulldog at home, or are you in the process of adopting an American bulldog puppy? There seems to be so much different information about what kind of dog food is best for American bulldogs, but that's why we've assembled this guide, which gives options for the best American bulldog food and reasons why it's nutritious.
Not all bulldogs are the same, so we'll go over the differences in needs between bulldog breeds and what ingredients to look for so that your American's bulldog can stay healthy and active.
Top 3 Picks for an American Bulldog
Before we dig into any specifics about American bulldogs, we'd like you to take a look at these 3 picks for the best American bulldog food. Out of all the dog food choices we have to talk about today, these 3 are our favorite when it comes to puppies, a great bargain, and best overall features. With these 3 nutrient-dense foods, your furry companion will have a glossy coat and lots of energy.
Best Overall: Merrick Grain Free with Real Meat + Sweet Potato Dry Dog Food
This dog food contains 60% protein from animal products, which is what makes it a cut above the rest. The ingredients that make up this option are natural, healthy, and make your dog's coat shinier.
Best for Puppies: Taste of the Wild PREY High Protein Limited Ingredient Premium Dry Dog Food with Antioxidants and Probiotics for All Life Stages-Beef
The kibble bits for this dog food are small enough for American bulldog puppies to chew. It's important to make sure the size of the bits isn't too big, or puppies could choke on them.
Best Bargain: Purina ONE SmartBlend True Instinct Natural Adult Dry Dog Food & Dog Treats-Turkey and Venison
This small bag of dog food is perfect if your dog is a picky eater. You can try out this small amount with your American bulldog to see if they like it.
American Bulldog vs French Bulldog vs English Bulldog
While these 3 breeds are all within the bulldog family, they have different needs when it comes to their health. To tell you all about it, we've assembled this quick chart that describes how American bulldogs need dietary care that's just a little different from French bulldogs and English bulldogs.
American Bulldog

Prone to obesity

Large dog breed that needs a larger amount of food  

Needs a lot of protein

Prone to food allergies  

French Bulldog

Prone to obesity

Needs the smallest amount of food

Needs the smallest amount of protein

Prone to food allergies

English Bulldog

Most prone to obesity

Large dog breed that needs a larger amount of food

Needs the most protein

Prone to food allergies
Do American Bulldogs Need Special Food?
American bulldogs are more prone to obesity than many other dogs breeds, so their diet needs to be regulated. Take special care not to give your American bulldog junk food, or human food, because weight gain can lead to other health problems for your pup. Choose a high-quality dog food that is high in protein, vegetables, and lean whole grains.
Common Food Allergies for American Bulldogs
Sometimes, food allergies in dogs can show up in the form of stomach problems and skin conditions. For American bulldogs specifically, there are some foods to watch out for because this breed is known for reacting badly to them.
Not all American bulldogs will be allergic to the foods on this list, but by knowing what's most likely causing an allergic reaction, you can cut it out of their diet.
Be on the lookout for:
What Ingredients Should Be in Your American Bulldog's Food?
Meat should always be the first ingredient in your American bulldog's food. Despite what some vegan dog food gurus might say, dogs are primarily a carnivorous species and need a high protein diet from meat to thrive. Some vegetables should be added, too.
Not all types of dog food will list a whole grain like brown rice, but this can also be beneficial to your dog's diet. Keep in mind that some American bulldogs are prone to grain allergies, so be sure to carefully monitor your dog if you're planning on switching to a new dog food.
What to Look for in Food for American Bulldogs
Next up, we're going to go over what key features to look for in American bulldog food. Not all dog food brands will have the best ingredients (no matter what picture they have on the front of the package.) Instead, we're taking a look at what's important to find on the back of a bag of dog food.
Real Ingredients
Check to make sure that the dog food brand you like best is using real ingredients. The first ingredients should say things like "chicken," "lamb," and "brown rice" or "sweet potatoes."
If the fifth ingredient is a long, scientific-sounding word that's hard to pronounce, then it isn't what we'd consider a "real" ingredient that's good for American bulldogs. Try to avoid dog food with high-fat fillers, too, like cornmeal.
Consider Allergies
Dogs can benefit from carbohydrates like grains, but this is also a food that American bulldogs are commonly allergic to. Some American bulldogs can eat grains without a problem, and some can't, so keep this in mind.
If you notice your American bulldog does have an allergic reaction to grains, opt for a dog food that is grain free. We'll scope out some of the best later on in the guide.
High Protein
Your American bulldog needs lots of protein for strong muscles and a healthy coat! The dog food you choose should be packed with real meat ingredients. If only one kind of meat is listed, then that brand's dog food probably isn't as full of protein as it should be.
Some healthy fillers, like legumes, will also be protein-packed so your dog will stay strong even in old age.
Veggies
Vegetables are good for dogs. Of course, you shouldn't try and give your dog an only-vegetable diet, but having vegetables incorporated helps with their digestion and provides essential vitamins. Choose a dog food with nutrient-dense vegetables. Avoid ones that are filled with lots of corn, because corn does not offer many nutritional benefits.
Size of the Bits
The size of dry dog food kibble bits comes in a huge assortment of sizes, but which is best for your precious fluffy pal? Well, that depends on how old your American bulldog is.
If your American bulldog is a puppy, you should feed them small kibble bits. Puppies can't chew their food as well as adult dogs, so a smaller kibble will keep them from choking. The smaller pieces are also easier for them to digest.
As your puppy ages, you can transition them from small-sized kibble to medium-sized kibble and finally large-sized kibble as a grown adult dog. Adult American bulldogs shouldn't be given small pieces of food anymore, because they sometimes swallow the tiny kibble pieces without chewing them first.
Is Wet or Dry Food Better for My American Bulldog?
One huge advantage of feeding your American bulldog dry dog food is that it helps with their overall dental health. Dogs can get dental problems, too, and the crunchiness of dry food will help them wear down plaque that would otherwise still cling to their teeth.
Some owners like to give their dog a mix of both dry and wet dog food. If your American bulldog is suffering from dehydration, incorporating some wet dog food is a great way to give them extra hydration.
How Much Should I Feed My American Bulldog?
How much you should feed an American bulldog depends on how old they are. Adult dogs will eat much more than puppies, but puppies need to eat more often than adult dogs. By the time your dog is a year old, they should be eating between 430-930 grams of food a day, but puppies need less than half of that.
We recommend asking your local veterinarian for specific dog food measurements for your dog. Even among American bulldogs, some will naturally be smaller or larger, so getting a professional's advice is the safest way to go.
How to Stop My Bulldog from Eating Too Fast
Sometimes, dogs get excited and rush into something that is bad for them. We've all seen it happen. If your American bulldog is eating way too fast for their own good, try:
Feeding your dog in small portions so they can't scarf down a full portion all at once
Buy a dog feeder that releases dog food slowly
Spread out your dog's portion of food in 4-6 different food bowls and place them in different areas of a room.
The Best Food for an American Bulldog
After searching for the best American bulldog dog foods, we have these 7 to show you. The first ingredient in all these choices is meat, which is something we insist on. After reading through these options, we're confident you'll find the right food that makes tails wag and fur coats shiny.
Brand: Blue Buffalo
Product Features
Blue Buffalo is a trusted dog food brand we like for its real ingredients. Blue Buffalo doesn't include artificial flavors, preservatives, or fake meat. There are many kinds to choose from aside from the chicken and brown rice variety, including fish and brown rice, lamb and brown rice, and more.
First 3 Ingredients: Deboned chicken, chicken meal, brown rice
Price Range: $45-$55
Best Feature: No artificial flavors or preservatives
Best for: Dog food supplemented with grains
This kind includes Omega 3 and 6 fatty acids, which are essential for keeping your dog's coat shiny. The high protein content is good for building muscles and keeping your dog strong.
Pros
First ingredient is a lean, real meat
No corn, wheat, or soy
Brown rice is a healthy whole grain filler
Cons
Some American bulldogs are allergic to grains
Brand: Wellness
Product Features
Wellness is another trusted dog food brand that creates food from real ingredients that have a high protein content. This type of dog food is grain-free, which makes it an excellent choice if your American bulldog is allergic to grains.
First 3 Ingredients: Deboned turkey, turkey meal, chicken meal
Price Range: $60-$70
Best Feature: High concentration of protein
Best for: Real freeze-dried meat
This food from Wellness will keep your dog's heart healthy with ingredients like glucosamine, probiotics, and antioxidants. Their ingredients are all non-GMO, so you can ensure your pup is not consuming harmful pesticides and steroids.
Pros
Real freeze-dried pieces of fish
Non-GMO ingredients
Available in grain-free recipes
Cons
These kibble pieces are too big for small puppies
Brand: Purina
Product Features
Purina is a dog food brand that has become a household name, and it's worth it's reputation. This is a small bag of dog food so that you can make sure your dog likes the flavor before you commit to a large bag size (because some American bulldogs can be picky!)
First 3 Ingredients: Turkey, corn gluten meal, soy flour
Price Range: $10-$20
Best Feature: Small bag lets you see if your dog likes the food before you invest
Best for: Best bargain
Turkey is the first ingredient, which is protein-rich and good for your dog's muscles. Real venison is also a highly nutritious choice for your dog's health.
Pros
Real meat ingredients
30% protein content
Omega-6 fatty acids keep your dog's coat shiny
Cons
Second ingredient is corn gluten meal
Brand: Blue Buffalo
Product Features
This is another American bulldog food choice from Blue Buffalo. Aside from being made by a reputable brand that uses real ingredients, we like this choice for its use of vegetables, too.
First 3 Ingredients: Deboned chicken, chicken meal, peas
Price Range: $50-$60
Best Feature: Full of real meat ingredients
Best for: Juvenile American bulldogs
There aren't any of the non-nutritious fillers in this bag. Instead, highly nutritious vegetables like peas are used as fillers, which benefit your dog's health.
Pros
No corn, wheat, or soy
Full of antioxidants, vitamins, and minerals
Packed with real chicken
Cons
Recommended for medium-sized dogs
Brand: Taste of the Wild
Product Features
We love this dog food made from Taste of the Wild for puppies, because the pieces are small enough for them to chew easily. The little, rounded pieces of kibble are packed with real angus beef, which is the #1 ingredient.
First 3 Ingredients: Beef, lentils, tomato pomace
Price Range: $52-$62
Best Feature: Limited-ingredient diet is easier for some dogs' digestion
Best for: Puppies
Having a smaller list of ingredients like Taste of the Wild does for this specific kind of dog food is good for puppies, also, because it's easier for them to digest. If your puppy is a picky eater, this could be the perfect choice.
Pros
Small-sized bits are easier for puppies to chew
First ingredient is beef
Lentil, a filler, is also packed with protein
Cons
Small pieces are not ideal for adult American bulldogs
Brand: Royal Canin
Product Features
This kind of dog food by Royal Canin was made specifically for bulldogs. We love that the pieces are curved so that your dog will naturally wear down plaque buildups on their teeth as they chew it.
First 3 Ingredients: Brewers rice, oat groats, chicken by-product meal
Price Range: $80-$90
Best Feature: Made for adult bulldogs
Best for: Dental health
We recommend this dog food for adult American bulldogs. While this is the best choice for dental health, the curved pieces could be a choking hazard for puppies.
Pros
Shape of kibble designed for American bulldogs to chew
Kibble helps with dental problems
Lots of chicken, pork, and fish
Cons
Ingredients are not as healthy as the other options on the list
Brand: Merrick
Product Features
This is our favorite dog food for American bulldogs. This type of food by Merrick has a 60% protein content from animals, which is perfect for bulldogs' health and taste buds.
First 3 Ingredients: Deboned beef, lamb meal, salmon meal
Price Range: $55-$65
Best Feature: 60% protein content from animals
Best for: Best overall
The fillers, which are potatoes and sweet potatoes, still benefit your bulldog and provide essential nutrients. When it comes to a variety of natural meat and ingredients we're the most happy about, this is the winner.
Pros
High in protein and grain-free
Lots of natural ingredients
Ideal diet choice for an American bulldog
Cons
Pieces are too big for a puppy
How to Switch Dog Food Brands
It's a bad idea to suddenly switch your dog from one kind of food to another all at once. Instead, introduce a new kind of food slowly by:
Give your dog ¼ of the new food and ¾ of their old kind of food for the first 4 days.
Use ½ of the new food and ½ of the old food for the next 4 days after that.
Transition to ¾ new food and ¼ old food for the next 4 days after that.
Afterwards, you can finally transition fully to the new dog food.
FAQs
Question: What is the Best Food for American Bulldogs?
Answer: This depends on how old your American bulldog is. Puppies should eat small-sized kibble pieces while adult dogs should eat bigger pieces of kibble that can't be eaten as quickly.
Question: What can American Bulldogs not Eat?
Answer: Plenty of foods are toxic for American bulldogs, and we don't recommend giving your dog processed foods that are meant for people. Some natural fruits and vegetables are toxic to dogs, too. As far as allergies go, watch out to see if your dog reacts negatively to:
• Grains
• Corn
• Wheat
• Soy
Question: What Should I Feed My American Bulldog Puppy?
Answer: American bulldog puppies should be eating small kibble pieces. We recommend a wonderful kind of dog food from Taste of the Wild above that is perfect for puppies.
Final Words
You're an expert on what to feed your American bulldog! We covered what nutritional needs for American bulldogs need to be met so they can thrive, and we showed you our top 7 dog food choices. Personally, I love the Merrick Grain Free with Real Meat + Sweet Potato Dry Dog Food for its great taste and quality ingredients.
Do you have any questions about American bulldog dog food or a comment you'd like to share? Let us know in the section below! For even more great tips about how to keep your bulldog happy and healthy, check out our guide to the best bulldog toys!