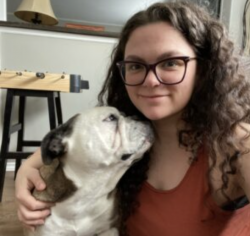 Latest posts by Candace Osmond
(see all)
If you have ever been concerned about what you are supposed to be feeding your bulldog, you are not alone. Bulldog owners have always had to be a bit more particular with what they feed their bulldogs, as bulldogs are a bit more sensitive than most dog breeds. Bulldogs need high-quality protein foods, such as foods rich in chicken, fish, beef, or lamb.
All-natural ingredients are always going to be better for your bulldog and will keep his or her coat shiny and free from allergens.
Grains can particularly be harmful to a bulldog's sensitive allergy-prone skin, such as soy, corn, or wheat. To help take the guessing game out of what to feed your lovable little buddy, we've picked some of the best foods for your bulldog based on price, quality ingredients, and healthiness.
Top 3 Picks For English Bulldog Food
Best Overall: Blue Buffalo Wilderness High Protein Blend
Blue Buffalo has an extensive line of high protein, low grain foods that are ideal for all types of different breeds of dogs, but especially for bulldogs that can't handle too much filler in their foods. Blue Buffalo is our top pick for the best overall category due to its superior blends of food and decent prices.
Best for Puppies: Merrick Grain Free Puppy Food
If you are trying to find the best bulldog food for your bulldog puppy, look no further than Merrick's Grain-Free Puppy food. This food provides grain-free nutrition with no gluten ingredients, which makes this especially easy to tolerate and digest for sensitive puppy tummies.
Best Bargain: Canidae Pure Grain Free Dog Food
Canidae Pure is a great dog food to feed your bulldog if you are searching for high-quality food that won't break the bank. This dog food is great to feed to all different types of breeds of dogs, especially bulldogs, due to its grain-free ingredients.
Do English Bulldogs Need Special Food?
Bulldogs do need special food due to their susceptibility to gaining weight and having allergies. Bulldogs need a strict, balanced diet filled with nutrition and made with high-quality ingredients to ensure a long and healthy life for your bulldog. You are going to want to make sure that your bulldog is living his or her life to the fullest, so finding food that will work both for you and your bulldog is essential in longevity.
Bulldogs are susceptible to a wide range of cardiac and respiratory diseases, so finding food that will help with these issues is key. Bulldogs are also known for having issues with hip dysplasia, cherry eye, and other skin allergy concerns. Still, a well-balanced and nutritional food will help your bulldog and help prevent any sorts of issues in the future.
Food Allergies for English Bulldogs
Some of the bulldogs' most common food allergies lie within foods like chicken, beef, or pork. These proteins can sometimes have an adverse reaction in bulldogs, but this is in a dog-by-dog case. Other food allergies may stem from corn, eggs, and milk, and you will know your dog is having an allergic reaction by his or her skin becoming itchy and red or red with welts.
Another indication that your bulldog is suffering from food allergies is if he or she begins to vomit or has diarrhea. In prolonged cases, your bulldog may exhibit some weight loss, hyperactivity, lack of energy, or even some aggression. If you suspect your bulldog is suffering from a food allergy, contact your veterinarian immediately and ask for recommendations on a more digestible food for your dog.
What Ingredients Should Be in Your English Bulldog Food?
Bulldogs need a wide range of proteins, fruits, vegetables, carbohydrates, and even some dairy in moderation. Here is a list of ingredients you should be looking for when purchasing your bulldog's food.
Pork
Chicken
Some types of fish
Lamb
Brown rice
Oatmeal
Eggs
Carrots
Sweet potatoes
Barley
Pea fiber
Potatoes
Peas
Rice bran
Turkey
Liver
What to Look for in Food for English Bulldogs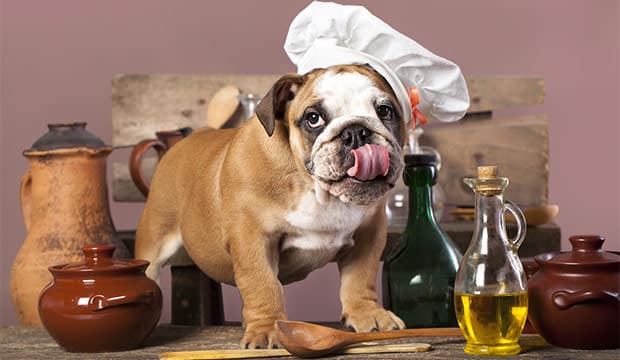 Some of the most important factors to consider when purchasing your bulldog his or her food is whether or not the formula will help your bulldog maintain a healthy weight, all while providing plenty of nutrition. A good, high-quality bulldog food will be high in fiber and nutrient-dense with plenty of prebiotics and probiotics. Here are some other factors to keep in mind when searching for food brands.
Real Ingredients
Making sure your bulldog's food is chock full of real ingredients is super important to your bulldog's overall health. You would never want to choose a food that is high in fillers, such as chicken meal or beef meal, or grains such as corn, wheat, or other types of fillers. If the ingredients label on your dog's food is full of hard-to-pronounce chemicals, this is also a red flag to drop that food and go for something more natural.
Real ingredients can be found in homemade food, certain kibble or wet food brands, and in fresher-type pet foods found in the refrigerator sections of your pet store or grocery store. Overall, you will want to look for an ingredients label that is full of easy-to-understand ingredients without too many preservatives or chemicals.
Consider Allergies
Not every bulldog is the same, so while your bulldog may be allergic to fish or beef, someone else's may do perfectly fine with these types of food. All you can do is watch your bulldog, and if he or she starts to exhibit allergy issues, change your bulldog's food for something else. A great way to find out what kind of foods your bulldog is allergic to is to ask what types of foods his or her parents were sensitive to.
Another great way to find out is an allergy test from your veterinarian, but these tests can run a bit pricey. To avoid expensive costs, find foods that are allergy-friendly and tailored to a bulldog's sensitive gut. That way, you are on the right track, and he or she won't have to suffer food allergies.
High Protein
Finding a bulldog food that is high in protein will help with your bulldog's energy and how they burn fuel. A high-protein food is great for your bulldog because they are susceptible to easy weight gain, so a food high in protein will help your dog get the most nutrition possible without weighing them down with grains or fillers. Some examples of great protein sources for bulldogs include fish, lamb, or beef.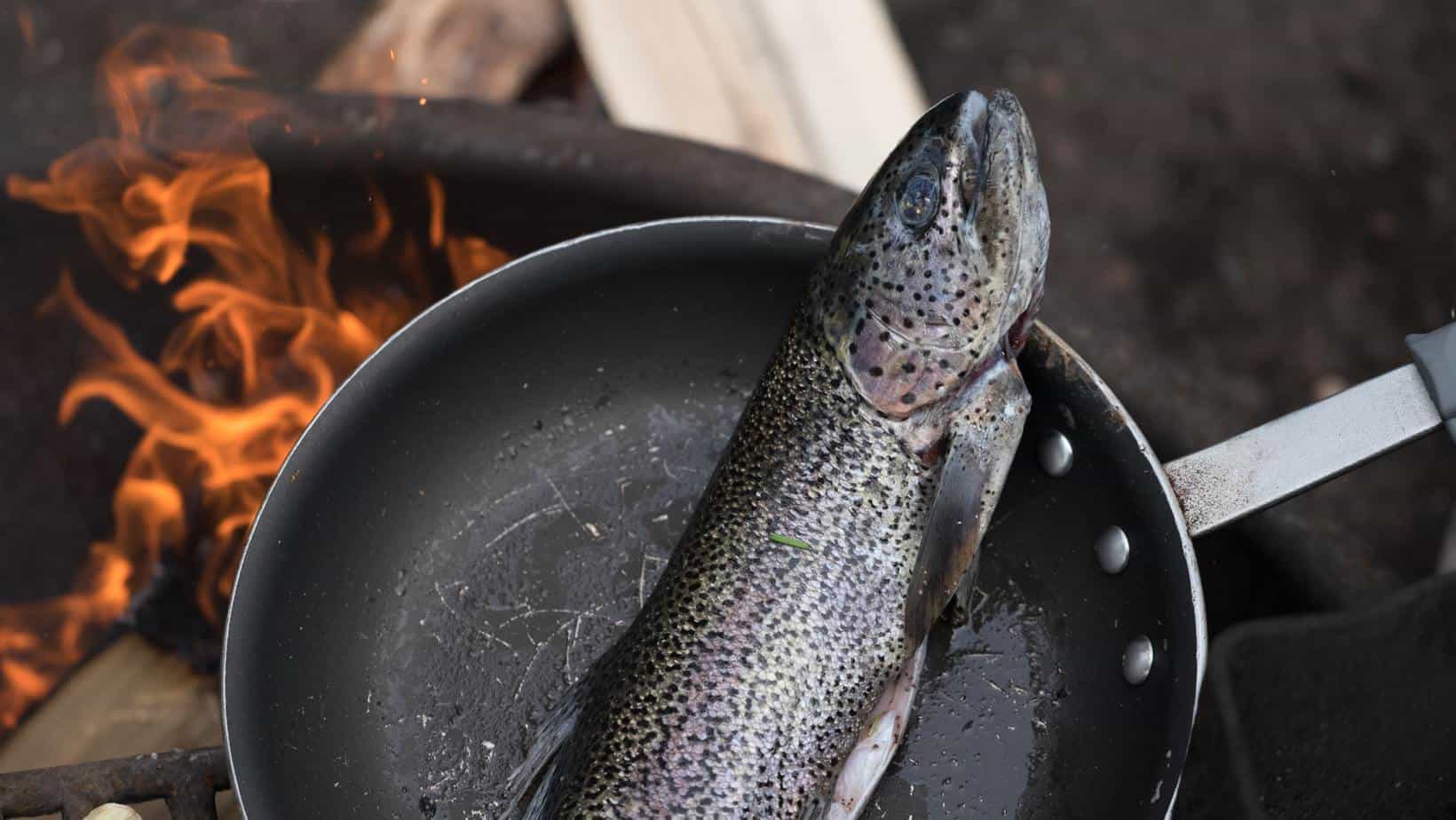 Veggies
Getting enough veggies is always a great idea, so whether you are feeding your dog kibble or making his or her food fresh at home, finding food with enough vegetables will only benefit your bulldog. Your bulldog can eat a wide range of vegetables, including kale, spinach, carrots, green beans, broccoli, beets, celery, sweet potato, and peas.
If not mixed into their food, these types of veggies can also make a great snack or be used as a reward if they are being especially well-behaved. Bulldogs love vegetables, and the more you give them, the better it will be for them in the long run.
Small Bites
Everybody enjoys a little snack here and there, and that goes for your bulldog, too. Bulldogs can have a lot of different options in snacks or small bites to give them throughout the day in between feeding times.
Some of the best snacks or small bites for bulldogs include apples, green peas, carrots, green beans, watermelon, cooked sweet potatoes, bananas, and broccoli. You could even mix some of these fruits and vegetables together to make a little midday salad as a treat.
How Much Should I Feed My English Bulldog?
How much you should feed your bulldog will really depend on your bulldog's size. Typically, a standard bulldog will eat anywhere from three to four cups of food per day, split into two meals. You can easily tailor this to your dog's scale. For example, if your dog is smaller, you may only need to feed her or him ½ a cup of kibble or up to a cup of kibble in the morning and at night.
Bigger dogs may need a cup and a half or two cups in the morning or at night. Typically, a dog doesn't need to eat twice a day, but most owners find their dogs are happier if they are given breakfast and dinner instead of one larger meal. This will also help them digest their food better and be fuller throughout the day.
How to Stop My Bulldog from Eating Too Fast?
Bulldogs are notorious for gobbling down their food in a blink of an eye, so in order to prevent your dog from doing this, there are a variety of methods you can work with. Giving your dog smaller portions of food will help him or her slow down and actually eat their food on a more regular rhythm. You can even give them half of their food, wait until they are finished, and then serve them the rest right after.
Another good method is to get a slow feeder, a bowl with crevices that makes it a bit more challenging for your dog to eat his or her food. This will slow your bulldog down and prevent him or her from choking or eating their food too quickly.
The Best Food for An English Bulldog
Limited Ingredient Canidae Pure Dog Food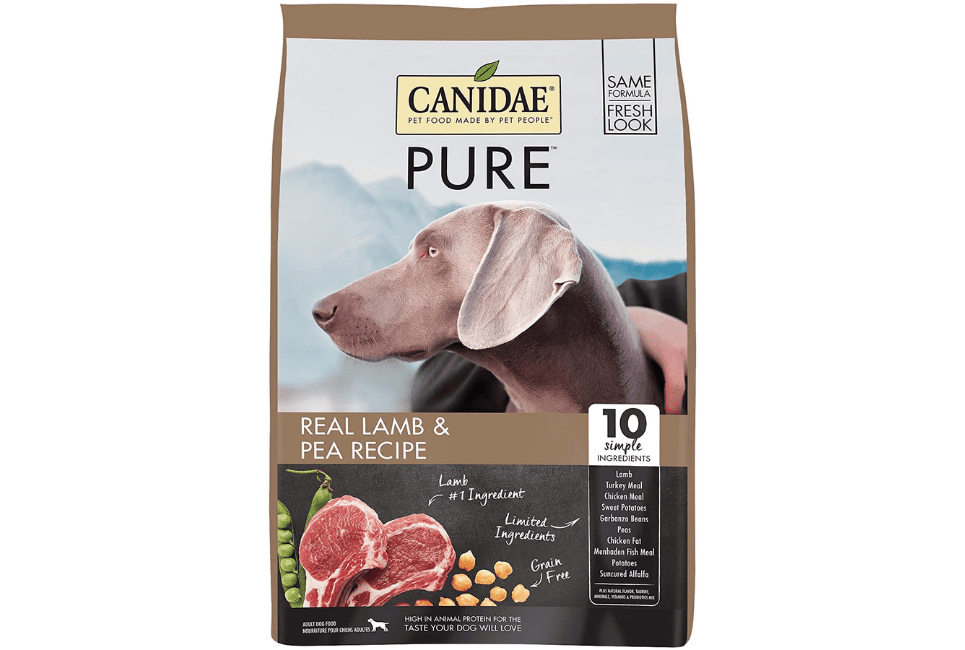 Canidae has made perfect dry dog food for your bulldog, chock full of nutrients and whole ingredients. This dry kibble is made with lamb and turkey, plus chicken meal and sweet potatoes, garbanzo beans, green peas, natural chicken fat, healthy minerals, and plenty of vitamins. Any food with 10 ingredients or less is going to be decent food for your dog as it is made with whole ingredients.
First three Ingredients: Lamb, turkey meal, chicken meal
Features: Approved by AAFCO dog nutrient profiles for maintenance, limited ingredient recipe
Best For: Adults, dogs with allergy issues
This is a great dry kibble for nutrition as it is packed with protein and clean ingredients. This will help any dog with allergy issues and is a better choice than most standard dry kibbles out there that could only inflame allergy issues in bulldogs.
Pros
Limited ingredient kibble
Made with clean products
Made with real meat and poultry
Exceptional nutritional levels
Cons
Bulldog Kibble by Royal Canin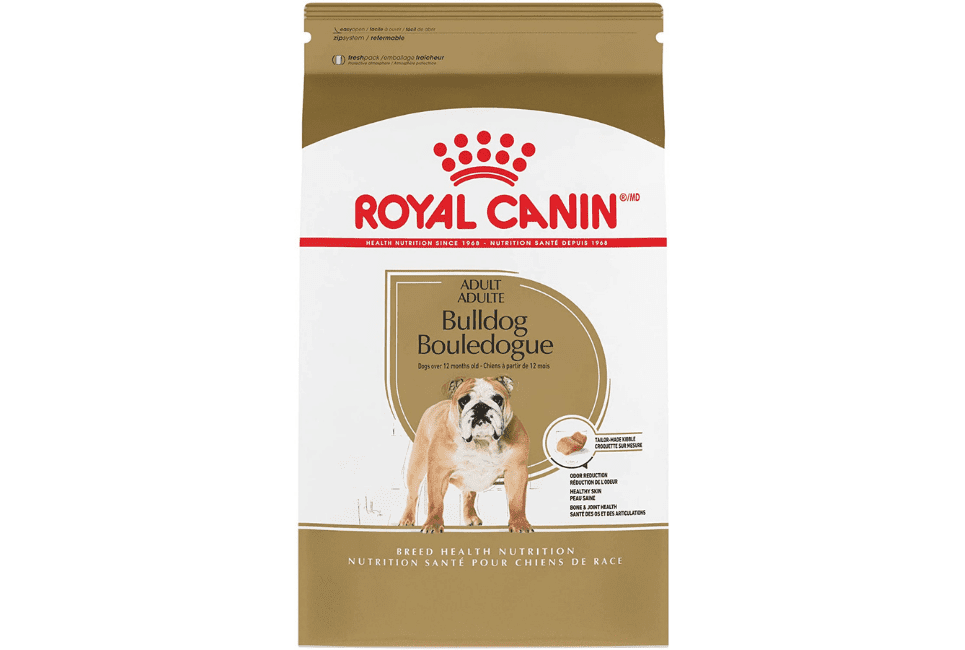 Royal Canin has made an exceptional dry kibble that is perfect for bulldogs as it is specifically made for this breed. This formula of dog food contains ingredients like brewer's rice, oat groats, chicken meal, brown rice, pork meal, and fish oil to give your dog plenty of vitamins and minerals for the utmost nutrition.
First three Ingredients: Brewer's rice, oat groats, chicken by-product meal
Features: Supports healthy skin, contains EPA and DHA to support shorter bodies
Best For: Adult bulldogs, picky eaters
This formula is meant to meet all the nutritional needs of your purebred bulldog and is even shaped in such a way that your bulldog will have an easy time eating it. It helps reduce gas and stool odors since it has plenty of super digestible proteins and excellent fiber intakes.
Pros
Specifically designed for adult bulldogs
Tailor-made kibble pieces for easier eating
Helps reduce gas
Reinforces the skin barrier
Cons
Made specifically for bulldogs, not good for other breeds
May be a bit pricey for some
Natural Grain Free Dog Food by Wellness CORE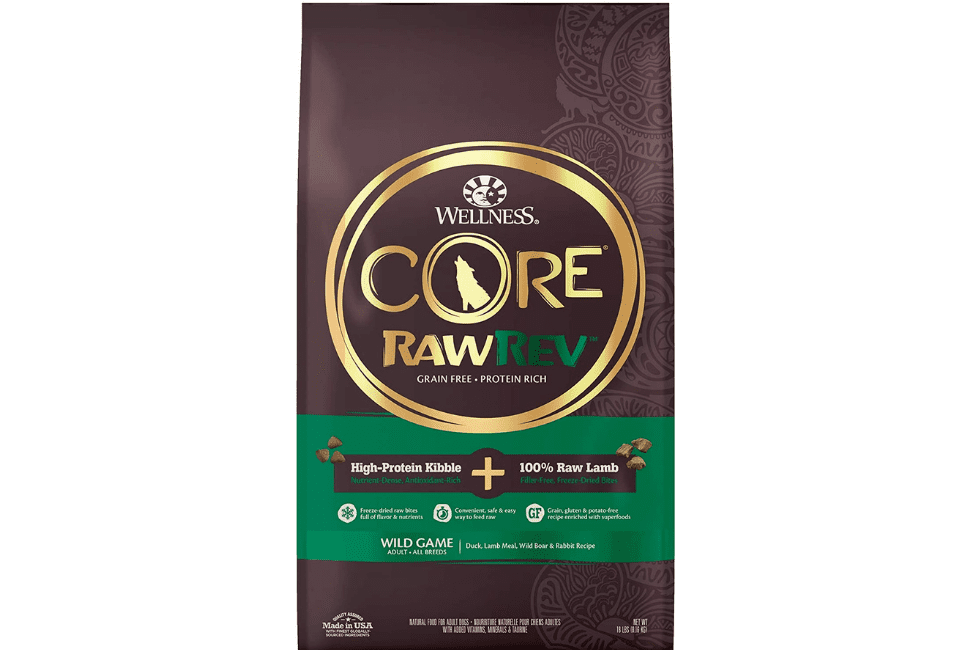 Wellness Natural Pet Food has created this grain-free dry dog food filled with wild game such as duck, wild boar, and rabbit with freeze-dried lamb. This kibble has all sorts of nutritional needs your bulldog will love to promote leaner body mass and muscle tone.
First three ingredients: Duck, Lamb Meal, Chicken Meal
Features: Great for food sensitivities, full of omega fatty acids
Best For: Adult dogs, dogs with food sensitivities
This is a high protein and nutrient-dense food that is a limited ingredient recipe that is perfect for dogs with food sensitives and allergies. This food will support your bulldogs' skin and coat since it is chock full of omega fatty acids from flaxseed and salmon oil ingredients.
Pros
Great nutritional value
Limited ingredient recipe
High concentration of protein
Supports skin and coat
Cons
Not all dogs may like the wild game taste
A bit pricey
Roasted Lamb Kibble by Taste of the Wild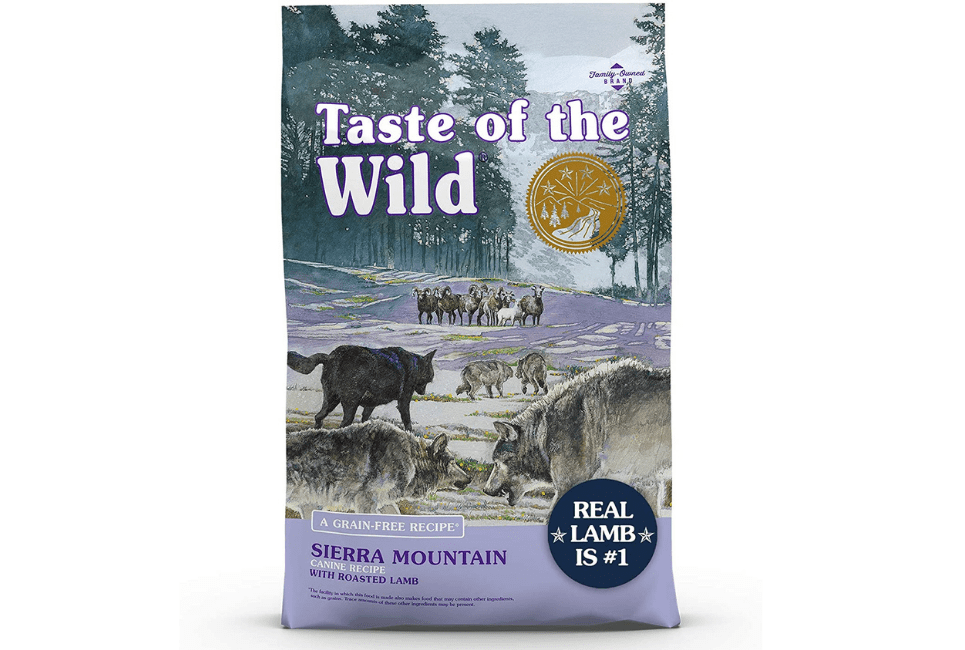 A kibble that is ideal for all breed sizes, Taste of the Wild brings in plenty of real food ingredients with lamb, sweet potatoes, and egg products. This unique recipe will support bone health and help with aging joints and muscles. This is a nutrient-rich food that will give your dog plenty of energy throughout his or her day.
First three Ingredients: Lamb, lamb meal, sweet potatoes
Features: Made without grains, best for adult dogs
Best For: Adult dogs, dogs with skin sensitivity issues
This food contains plenty of vitamins, minerals, and probiotics to help your dog get plenty of omega fatty acids to promote healthy skin and coats. This kibble also helps support healthy digestion, ups their immune systems, and will make your dog feel great overall.
Pros
Lamb is the number one ingredient
Supports bones and joints
Promotes lean and strong muscles
Has plenty of superfoods
Cons
Not great for dog's sensitive to eggs
Not good for dogs with lamb allergies
Wilderness High Protein by Blue Buffalo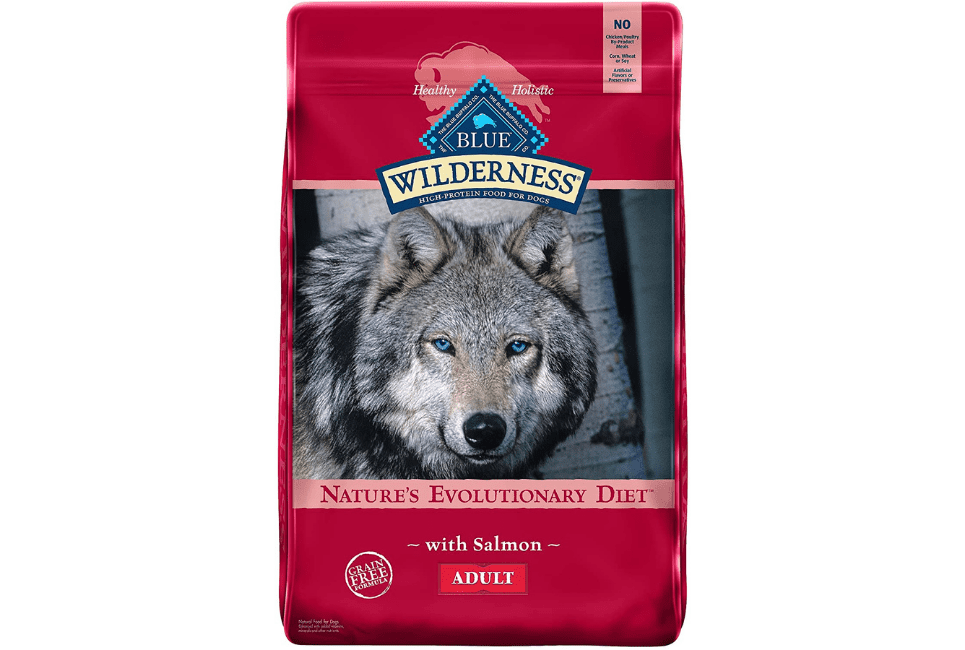 Blue Buffalo has a high reputation for providing high-quality food with plenty of vitamins, antioxidants, and high protein levels. This grain-free food is packed with real salmon which is great for building lean muscle mass and helping out with any allergy issues.
First three ingredients: Deboned salmon, chicken meal, peas
Features: Grain-free, great for dogs with allergy issues
Best For: Adult dogs, dogs who need limited ingredient diets
This kibble is full of healthy ingredients and has plenty of antioxidant-rich vitamins and minerals to help support your dog's immune system through all stages of life.
Pros
Made with real salmon
Contains plenty of healthy ingredients
Antioxidant-rich
Natural dog food
Cons
A bit pricey
Not good for dog's sensitive to fish or salmon
Merrick Puppy Food, Grain-Free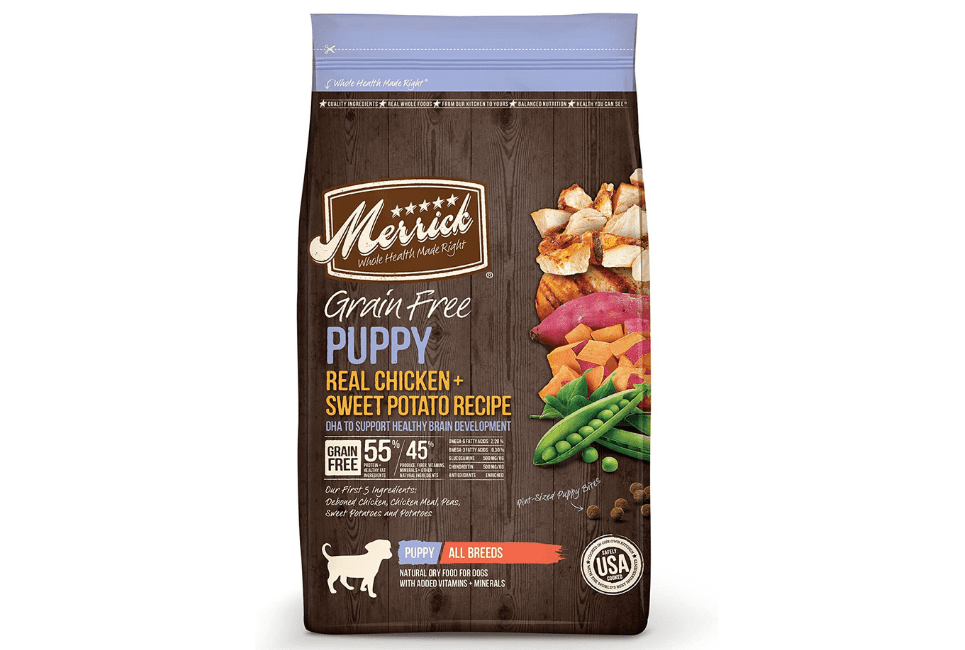 Merrick has created a dry puppy kibble that is ideal for growing, large breed puppies. This is a grain-free recipe chock full of easy-to-digest ingredients that have no gluten at all in them. The key ingredient to this recipe is deboned chicken, which is an easier protein to digest than most.
First three ingredients: Deboned chicken, chicken meal, potatoes
Features: Made with DHA for brain activity, ideal for puppies
Best For: Large breed puppies
This kibble contains DHA for healthy brain development and will easily meet all of the nutritional elements that your growing puppy will need to grow up big, strong, and healthy. All recipes are formulated and made in the USA.
Pros
Grain-free recipe
Made with real chicken
Made with DHA for healthy brain development
Perfect for growing large breed puppies
Cons
Expensive
Only suitable for puppies
FAQs
Question: What Is the Best Food for English Bulldogs?
Answer: While all of these brands and food recipes are great for you bulldogs, we recommend Blue Buffalo as the overall best brand of food.
Question: What Can English Bulldogs Not Eat?
Answer: Bulldogs shouldn't eat things like peanut butter with artificial sweeteners, avocados, nuts, high sugar treats, chocolate, or anything with alcohol in it.
Question: What Should I Feed My English Bulldog Puppy?
Answer: Merrick grain-free puppy food from this list is an ideal food that will help in brain development as well and longevity and muscle mass.
The Bottom Line
As you can see, there are so many great recipes of dog food that you can feed your bulldog. Whether you have an adult bulldog or a growing puppy, there are so many great options to choose from within this list that will keep your bulldog happy, healthy, and living his or her best life.
Personally, I love the Blue Buffalo Wilderness High Protein Blend for its overall taste, price point, and quality.
Did you find this article useful? We hope you did. Do you have any experience with any of these brands of food? We would love to hear from you. Feel free to share your comments and stories in the section below. And be sure to check out our other helpful tips like this guide to the best treats for French bulldogs!